Cardiac Rehabilitation
I've been on the waiting list for a new heart since 13th October 2016 (on my birthday), which means that theoretically, at any moment there could be a match and I could be called for the heart transplantation procedure. While that sounds promising, and I am very fortunate simply to be deemed eligible to get on the list, it gets a bit trickier in my case because of my height. I'm six-feet, eight inches tall — not a very common frame.
A heart gap
The goal is to find a heart that is compatible in terms of parameters such as blood group types or tissue typing, but also with someone tall who also matches my weight, about 240 pounds. An added challenge is that there are about 7 million people in the U.S. with various degrees of heart failure in terms of its severity. But over the last two decades, there have only been about 71,600 transplants performed in the United States. So clearly, there is a significant gap between the total number of patients who need a new heart and those who are able to receive one.
Starting cardiac rehabilitation
While waiting for a hopeful donor organ, one way that I've moved forward after my open-heart surgery is by embarking on an organized and focused cardiac rehabilitation (rehab) program at the Boston Medical Center (BMC) in Boston. I joined this program in April 2017 to further strengthen and improve my heart's functional capacity, by increasing my oxygen uptake, endurance, and quality of life.
My program began with three, two-hour exercise sessions per week for 12 weeks and included supervised exercise training, personal nutrition counseling, risk-factor modification, and heart health education.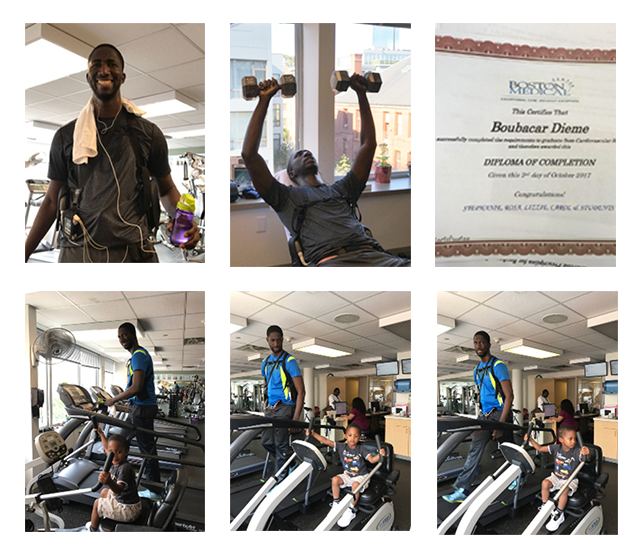 Increased strength and endurance
After just two months of cardiac rehab, my physical endurance had greatly increased, along with my strength, mood, and confidence. In April 2017, three months after the surgery, I could only walk 300 feet before tiring out. But in September, four months after starting the rehabilitation program, I was able to walk six miles along the Esplanade in Boston with family, friends, and members of my Brigham care team during the American Heart Association (AHA)'s Boston Heart Walk (More about the Heartofagiant team).
Pure joy and happiness
Cardiac rehab was key to this success, but I didn't want it to stop there. Moving beyond the rehab, I set four new goals: to maintain my health, to become as strong as I can, to be more active and useful at home and work, and to always be reachable by the transplant team so they can alert me when a good donor heart is found.
Buoyed by the energy and enthusiasm of that event — during which my Heart Walk team had banded together to walk with the name "Heart of a Giant" — I wanted to keep going after the walk and clocked another six miles the same day. It was a moment of pure joy and happiness. Being able to participate in this event with loved ones meant not only the world to me, it meant everything that life is about.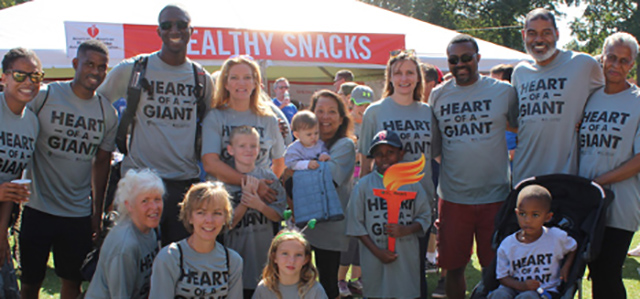 Team Heartofagiant at the 2017 Boston Heart WalkWhen I turned 31, a month later, I reflected on what it was like to see the pedometer app on my phone register above 24,000 steps. It was a major milestone. I hadn't been able to walk that far in a long time, and I felt driven to be able to do it—to prove that life goes on, even with a serious diagnosis, and we can all still do great things."Being able to participate in this event with loved ones meant not only the world to me, it meant everything that life is about."Have you tried cardiac rehab? Let us know in the comments below!
This article represents the opinions, thoughts, and experiences of the author; none of this content has been paid for by any advertiser. The Heart-Failure.net team does not recommend or endorse any products or treatments discussed herein. Learn more about how we maintain editorial integrity
here
.

Community Poll
Do you know someone living with kidney cancer?