Pretty Lady Chronicles: Navigating COVID-19 with Heart Failure
"COVID-19 has changed the game, but I can't say I didn't see it coming." My 17-year-old son warned me for weeks. He sounded the alarm daily, during the commute to his school. I didn't take heed as he said, "We're gonna be out of school for a whole month." I laughed and said, "That will never happen. The domino effect on our community would be too great." I was wrong.
Bringing things to a halt
I never imagined that COVID-19 would directly impact our lives, and bring things to a halt the way it has. As with many others across the nation, his school has canceled classroom instruction for the remainder of the school year. He is completing his academic studies online, as a direct result of the coronavirus pandemic.
Survival mode
When I heard of the initial two weeks of online instruction, I phoned my mother. As we talked, I realized I needed to grab a few more things from the store. As I began to draft my list, I thought of additional food and water essentials. Then my mind began to wander.
What about the unexpected?  Will water pressures drop?  I'm sure internet connections may slow. Wait, is a long-term power failure eminent? I do need power to charge my cell phone. Maybe I can get a solar cell phone charger. What about broader communication if there's no internet?
I realize a radio with battery and wall power is a must. Wow, this basic essentials list was really starting to grow.
My survival list
I scan the room to make sure I'm not missing anything."My place is total electric with no fireplace! I don't have a grill. What if there's no power, and we want something hot to eat?" A small grill, charcoal, and lighter fluid just made their way onto this growing list. 🤦🏾‍♀️ I promise I'm not in panic mode. Lol. All complete. I text it to a few friends and family with the caption, "Taking Donations!" 😂
As expected, I begin to get responses. "Is this your list ma'am?" "That's your survival list huh?" The heartfelt, "Well let me know if you need help with it." We all joked and shared emojis. Reality strikes."What am I thinking? I have an LVAD!"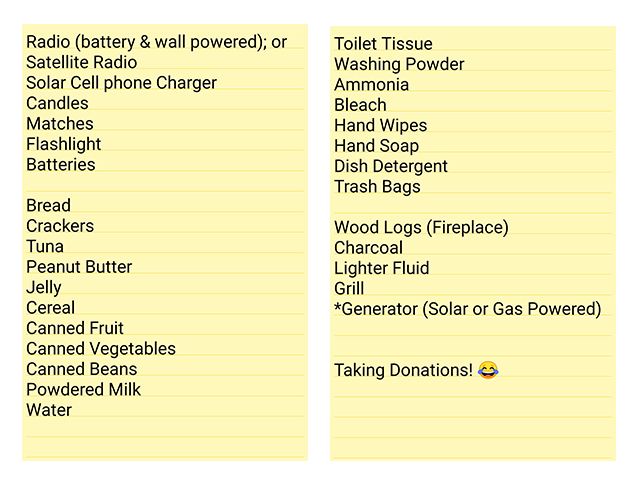 My bionic heart
If you don't know my story, I developed heart disease from pregnancy. Currently, I'm diagnosed with Stage 4 Advanced Heart Failure.
In order to sustain life, I've been retrofitted with an implantable LVAD (Left Ventricular Assist Device). "What does that mean?" I have a mechanical pump attached to my heart that relies on external sources for power. Remember, I'm bionic too!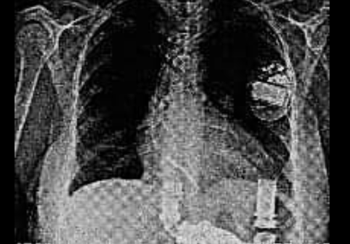 An x-ray of my LVAD
Emergency preparedness plan
Having heart failure and being bionic also means I'm considered "medically fragile," "at risk," and have an "underlying condition." I really need to consider getting that generator, but navigating COVID-19 with heart failure makes my preparation unique.What if the power does go out for an extended period of time? My mechanical heart pump requires power to function! I draft a new list that quickly becomes my emergency preparedness plan:
Make sure my LVAD wall unit, battery charger, batteries, and medications are ready to go.
I need to pack an overnight hospital bag for my son and myself.
Pack a goodie bag (snacks, journal, The Battle Book, Bible, crossword puzzles).
Have all electronics and chargers (laptop, cell phones, portable games) ready to grab & go.
Pay upcoming bills, or set up an automatic bill payment.
Update my emergency contact list.
Do I have an updated will or medical power of attorney on file with the hospital?
I must say, I've never been a fan of number seven. Just like that, the coronavirus has me facing my own mortality in an unexpected way.

Recent photos of me.
Who would've thought?
A pandemic is an epidemic spread over several countries or worldwide, affecting a large number of people. Was I ready for this pandemic? Heart disease is the leading cause of death worldwide! Reports state that an average of 647,000 Americans dies from heart disease annually. That's a daily average of 1,772 Americans alone! Maybe heart disease isn't a pandemic by definition; it does seem to be a public health emergency in its own right. Suddenly, my world isn't so small.1
As a result of having pregnancy-induced heart failure, I've been living through a public health emergency for seventeen years. Although the coronavirus pandemic hasn't impacted my physical health, I realized, "Having heart failure prepared me for COVID-19."  Who would've thought?
Stay Safe!
- Tina Marie
#PRETTYLADYCHRONICLES
This article represents the opinions, thoughts, and experiences of the author; none of this content has been paid for by any advertiser. The Heart-Failure.net team does not recommend or endorse any products or treatments discussed herein. Learn more about how we maintain editorial integrity
here
.

Community Poll
Do you know someone living with kidney cancer?