Heart Failure Symptoms By Class and Stage
Heart failure (HF) is a complex, chronic syndrome that gets worse over time. During the diagnostic process, physicians classify each case of heart failure. The American College of Cardiology/American Heart Association (ACC/AHA) and the New York Heart Association (NYHA) have complementary classification systems.1-4
The ACC/AHA stages reflect the range from a high risk of developing heart failure to advanced heart failure and are associated with an approach to treatment plans.1-4 The New York Heart Association clinical classifications of heart failure reflect the severity of symptoms or functional limits due to heart failure.1-2 A diagnosis can have an assignment of a stage and a class.
Stages and classes defined
Heart failure (HF) is generally classified by the severity of a patient's symptoms. The most common classification system is the New York Heart Association (NYHA) Functional Classification. There are four levels of clinical classification (Class I-II-III-IV) used to stratify both the presence of symptoms and limitations experienced during physical activity. The severity of symptoms is made by comparison to normal breathing, shortness of breath, and/or angina (chest pain or discomfort).1
The symptoms of heart failure associated with function during physical activity are an important indicator of disease progression and prognosis.1-2
Class I: No limitation of physical activity. Ordinary physical activity does not cause symptoms of HF.
Class II: Slight limitation of physical activity. Comfortable at rest, but ordinary physical activity results in symptoms of HF.
Class III: Marked limitation of physical activity. Comfortable at rest, but less than ordinary activity causes symptoms of HF.
Class IV: Symptoms occur even at rest; discomfort with any physical activity. Unable to carry on any physical activity without symptoms of HF.
Class I and II are typically categorized as mild heart failure, while class III and IV are considered more severe or advanced heart failure. A person can move back and forth between these classes based on their symptoms. When a patient has a heart failure exacerbation, they will have more symptoms and likely be a higher class, but when their symptoms are better controlled, they will fall into a lower class.1-4
The American College of Cardiology/American Heart Association (ACC/AHA) complementary staging system defines four stages (Stages A,B,C,D).3
Stage A: High risk of heart failure but no structural heart disease or symptoms of heart failure (pre-heart failure)
Stage B: Structural heart disease but no symptoms of heart failure (pre-heart failure)
Stage C: Structural heart disease and symptoms of heart failure
Stage D: Refractory heart failure requiring specialized interventions
These stages reflect the symptoms and treatment plans for heart failure. They represent a progression; as HF worsens, a person's condition may advance to the next stage of heart failure. The objective is that with treatment, progression through the stages may be delayed.4
Symptoms of heart failure
Figure 1. Symptoms by stage5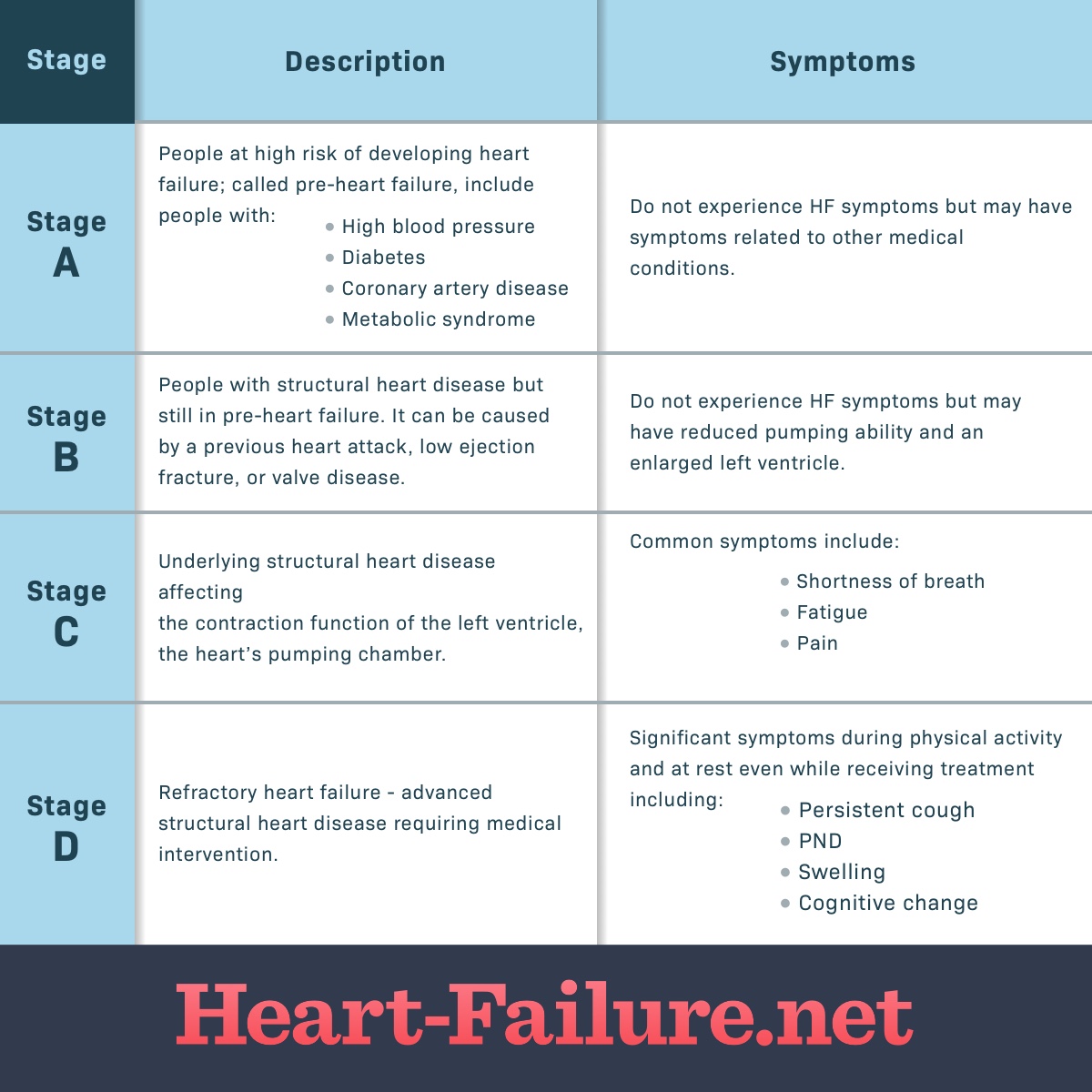 Figure 2. Symptoms by class5